The Most Expensive Dog Breeds of All Time
Our dogs are far more than just pets, they are part of the family. However, with most households feeling the pressure from the cost of living crisis, our beloved pets have become another expense to worry about.
From vet care, food, grooming and insurance fees, essential dog care all adds up and is anything but cheap. Before committing to a furry friend, it's important to consider all financial costs involved across their lifetime.
We at Sambla have taken a look into the essential dog care costs to reveal the most and least expensive dog breeds, breaking this down over its entire lifetime and per annum. The study looks into the following average costs to determine how much you could be looking to spend over the dog's lifetime.
Cost to buy
Annual food costs
Annual insurance costs
Initial puppy vaccination course and annual booster
Annual grooming costs
Table of content:
Top 20 Most Expensive Dog Breeds
So how much do the breeds differ from each other? Here's what we found: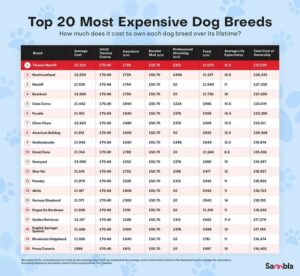 1. Tibetan Mastiff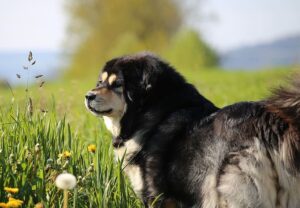 Taking top place as the most expensive dog breed analysed is the Tibetan Mastiff costing a staggering £31,530 on average across their 13-year life span. Known for their size which makes them a rather intimidating and scary dog, Tibetan Mastiffs are an overall affectionate family dog breed. Not only is the breed expensive to buy as a puppy, costing an average of £2,333, but their food costs make Tibetan Mastiffs particularly pricey on average costing £1,079 per annum.
2. Newfoundland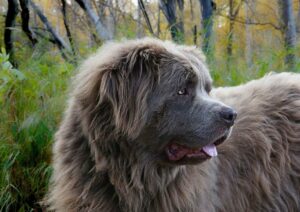 Considered gentle, friendly and trainable, Newfoundland comes in second, costing an average of £28,332 throughout its 10-year lifespan. This giant breed requires regular grooming which can cost roughly £496 per annum as well as a substantial amount of food, costing £1,237 per annum.
3. Mastiff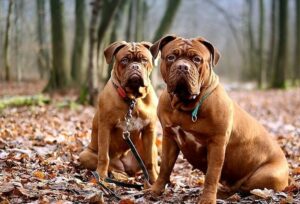 The Mastiff, also known as the English Mastiff, comes in as the third most expensive dog breed costing £27,330 over the span of its 11-year lifespan. One of the most ancient dog breeds, Mastiffs cost on average around £1,525 to buy. Mastiffs weigh in at around 71kg and stand at 70 to 90 centimetres at the withers meaning that their food does not come cheap, costing a whopping £1,549 per annum.
Top 20 Most Affordable Dog Breeds
As well as ranking the most expensive dog breeds, we also wanted to identify the most affordable dog breeds to buy, feed, insure, and treat at the vet. It's no surprise that the top five least expensive breeds were on the smaller size. Smaller breeds tend to have cheaper food and veterinary bills and are less expensive to insure.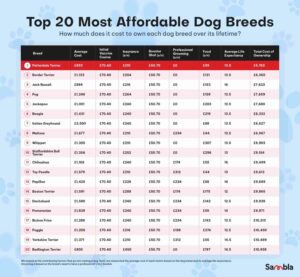 1. Patterdale Terrier
The laid-back, compact working Terrier from England came out top as the cheapest dog breed costing £5,763 over its 13-year lifespan. This beloved family pet has an £893 average buying cost, just over £700 cheaper than the average buying cost. Due to its small size, Patterdale Terrier's average food bill costs £99 per annum which works out to just £8.25 a month. When it comes to grooming, a Patterdale Terrier is a low-maintenance dog breed due to its wired hair, saving you a lot on grooming costs. A Patterdale Terrier is a great choice if you're looking for something affordable to both buy and keep.
2. Border Terrier
In second place is a Border Terrier, one of the smaller dog breeds from the Terrier group, costing around £6,365 over its 13-year lifespan. The Border Terrier is a slightly more expensive dog breed to buy costing £1,133, however, the maintenance costs are a lot less than other breeds. The average annual pet insurance cost for a Border Terrier is just £204, over £100 cheaper than the average per insurance cost for all breeds of £336.12. Similarly to the Patterdale Terrier, this short, wire-haired dog breed means grooming costs are a lot lower than average and due to its small size, food costs are just £131 a year.
3. Jack Russell
In third place was the compact and sturdy Jack Russell. With an average cost of £884 a Jack Russell is both inexpensive to buy and maintain with low essential costs. Like other Terrier breeds, their wired and short-haired coats save owners a lot on grooming costs. They are also cheaper to feed than bigger dogs costing around £153 a year. Overall, Jack Russells will set you back an average of £7,623 over their 16-year lifespan, just under half the average lifetime costs for all dog breeds of £14,060.
How much does it cost to own each dog breed per annum?
Some of the costs associated with owning a dog are one-off costs, whilst they are a puppy for example the purchasing costs and vaccination bills. We wanted to investigate which dog breeds cost the most and least when it came to maintenance per annum. To do this we looked at contributing factors that go into owning a dog beyond their puppy years such as monthly insurance costs as well as food and grooming costs.
The most expensive breed to care for each year is a Saint Bernard costing an average of £2,523 each year, working out at a monthly cost of £210.25. Due to the size of the breed, food is the most expensive yearly cost, working out at £1,369 a month, a whopping £114 a month and over £800 more than the average for all dog breeds. Other dogs with high yearly costs include Newfoundland, Boerboel, Mastiff and Leonberger.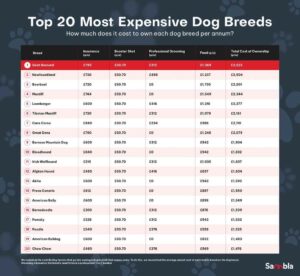 The least expensive breed to care for each year is the small and cute Yorkie Poo, which will cost you on average just £318 a year. This is a whopping £746 less than the average for all breeds. Yorkie Poos are a small dog breed, crossed between a Yorkshire Terrier and a Toy Poodle meaning they have tiny food bills. Yorkie Poos might cost less than £7 a month to feed so long as it doesn't have a particularly fancy taste.
If you want a dog that will cost you little each month to maintain then a Yorkie Poo is a great choice. Other dogs with small yearly costs include Patterdale Terrier, Italian Greyhound, Miniature Pinscher and Border Terrier.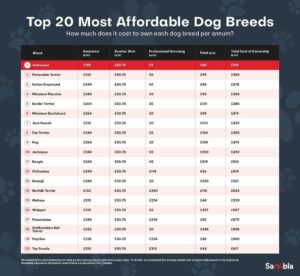 The most expensive dog breeds to buy
When looking at the average up-front cost of buying a dog, without the ongoing costs like insurance, food and vets, the five most expensive breeds of dog to buy are:
Italian Greyhound £3,500
Samoyed £3,000
Bernese Mountain Dog £2,688
Chow Chow £2,663
Irish Wolfhound £2,500
And these are the five least expensive dog breeds to buy:
Greyhound – £600
Lurcher – £647
Bedlington Terrier – £800
Jack Russell – £884
Presa Canario – £886
Sambla comments:"It's important to remember that a dog is for life and with that comes a financial commitment. As our study has shown, essential costs like food, grooming and insurance can all add up to a substantial yearly cost. Our study also shows the differences between breeds, so it is important you do all the necessary research into the breed you want. Just because a particular breed is cheaper to buy, doesn't necessarily mean it'll be cheaper to care for."
5 Money-saving tips for pet owners
1. Learn how to groom your pet at home
With the average monthly cost of grooming a dog in this survey being £41, dog grooming, especially for long-haired breeds, can end up being a huge cost for owners. For this reason, kitting yourself out with the recommended brushes, clippers and shampoos will save you a lot of money over time. And, it's a great bonding experience for you and your pet.
Clipping their nails, cleaning gently around their eyes and trimming their coats to remove any dead hair, dandruff and dirt are the very basics of grooming at home, but it's important to do this in a way that makes them feel comfortable without causing any stress.
If you're in any doubt about grooming your pet at home, speak to your local groomer or vet and ask for their advice, as well as what to be careful of for your particular breed.
2. Look out for pet food bargains
Pet food bills are one of the largest monthly outgoings for pet owners but what we feed them determines how they behave, as well as their overall health. The average monthly food cost per month in this survey was £40 and this can be as high as £90 for bigger dog breeds.
Always check that you're not paying for 'the brand' because there are always cheaper alternatives available. The most well-known pet food brands will often add more to their price tag due to being marketed as a 'premium brand'. If this isn't within your budget, it's a savvy idea to look at the ingredients on the back of pet food and find cheaper alternatives with equivalent nutritional value.
If you have access to the internet, often websites without physical shops will offer lower prices and save you some money. On top of this, dog clubs typically offer loyalty points meaning you can get money off any future purchases too, so keep an eye out for this!
3. Buy pet treatment products over the counter
Monthly flea and worm treatments will keep your pet free from parasites that can cause serious health risks. For anything health-related, it's always worth getting professional advice from your vet about the most effective products, as the more protection you have, the less likely you'll need an emergency trip to the vet.
While the best flea and worm treatment options will be prescribed by your vet, there are safe and cheaper alternatives available in your local pet store that do not require a prescription. Keeping on top of this regularly will ensure your pet is healthy and reduce the number of trips needed to the vet.
4. Try to budget properly
When funds are tight, it's important to be aware of your finances and spending, so there aren't too many surprises further down the line.
Pets can be unpredictable creatures and not every expense can be planned for, but with money set aside just in case, it will help to alleviate some of the initial panic. Although we love to spoil our pets, having a clear budget in mind will also stop us from overspending on items that aren't essential (such as that tenth squeaky toy), and instead, cover those unexpected health costs.
5. Do your homework on pet insurance policies
It's a good idea to look carefully for the best deal in terms of pet insurance and read the fine print before committing to any policy. The right insurance policy can save you money on fees like yearly vaccinations, vet visits and even major surgeries or any other unexpected procedures.
If you already have an insurance policy for your pet then make sure you're aware of what your insurance policy covers and make the most of everything you have on offer.
Methodology
We looked at the contributing factors that go into owning a dog. Next, we researched the average cost of each metric based on the dog breed and its average life expectancy.
We collated a list of the Top 100 most popular breeds from www.ukpets.com/dog-breeds