The Cost of Retirement Around The World
Retiring can be an exciting but also daunting prospect; it brings the end of your working life and begins your final years of being free to do whatever you please. In the past year, the topic of retirement has been hot. This was seen particularly in France this summer when a pension reform bill increased the retirement age from 62 to 64, causing mass riots.
By the year 2030, the World Health Organisation predicts that 1 in 6 people will be either 60 or older. Meaning a greater number of us will be retired or will be looking to retire in the near future.
To find out how the cost of retirement differs across the globe, we collated the cost of living without rent in 100 countries. We compared this figure with each country's retirement age and average life expectancy. This was able to estimate how much money the average local would need to retire in their corresponding country.
Which countries are the most expensive to retire in?
1. Switzerland
Switzerland has the 7th highest GDP per capita in the world and is well known for its high cost of living. Excluding rent, it would cost a retiree an average of £1,040 per month to be able to live comfortably. With an average age of retirement of 64.5 (64 for women and 65 for men), and a life expectancy of 84.4 years, the average Switz would live on average for just shy of 20 years after they've stopped working. This equates to a total retirement fund of £248,102.
2. Monaco
When you use the word 'expensive', usually Monaco won't be mentioned far behind it. It is notorious for its casinos and marina; Monaco is often a popular location for the well-off in society to retire. A number of famous celebrities call Monaco their home, including former Formula One drivers Jensen Button and Nico Rosberg, along with music legend Bono. The principality hosts a Formula One street circuit as well as a world-renowned yacht show.
The average retirement age in Monaco is 65, compared to the average life expectancy of 87, which means that retirees live an average of 22 years post-retirement. Living in Monaco will set you back £806 per month without rent, which, over 22 years, totals retirement at £212,881 not considering future inflation.
3. Qatar
Qatar has become a much bigger player on the world stage in recent years; having hosted the men's FIFA World Cup in 2022, it hosted the event, which was watched by billions around the globe.
Compared to many other countries in our study, Qatar has a relatively lower cost of living, with £556 per person per month, before rent. However, locals here are able to retire from just 50 years old, with 25 years minimum service length required to apply for a pension. When you compare the minimum retirement age with the country's life expectancy of 81.7 years, retirees in Qatar live on average for just under 32 years, resulting in a retirement fund of £211,703.
How does the cost of retirement compare around the UK?
n the UK, the current state pension is £203.85 per week and can be claimed by people aged 66 or over. However, those born after 5 April 1960 will see a phased increase to 67 then to 68. A state pension works out to around £10,600 per year.
We compared the cost of living without rent in the top 100 most populated towns and cities in the UK to the current retirement age of 66, and life expectancy of 81 years old (79 for men and 82.9 for women), to find out the most expensive places to retire in the UK.
Our study places London in top position, with the cost of living before rent in the capital totalling £1,039 per person per month. Brits looking to retire in London would accumulate an average retirement pot of £187,020 over 15 years post retirement, or £423,912 if they live to 100.
Leeds is the most expensive place to retire outside of London, with the current cost of living costing the average person £843 per month. This equates to a retirement fund of £151,740, just 23% cheaper than London.
The South East of England ranks as a particularly expensive hub to retire, with seven out of the top 20 towns and cities on our list being located there. These include Greater London, City of Westminster, Maidstone, Chelmsford, Eastbourne, Brighton and Worthing.
Outside of England, our study has unveiled Glasgow as the most expensive place to retire in Scotland; they rank 14th overall in the UK, with a cost of living of £767 per month without rent. Brits looking to retire in Glasgow will need to set aside £312,936 over the course of 15 years to retire here.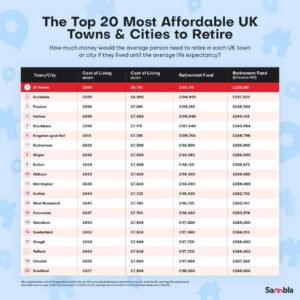 When it comes to the most affordable towns and cities to retire in the UK, 14 out of the top 20 are in the North of England. The divide between the north and south has been heavily debated for decades, as this top 20 list only sees two southern locations in Harlow and Slough, respectively.
St Helens, located between Liverpool and Manchester, has been revealed as the most affordable place to retire in the UK. There's an 84% price difference between retiring there and retiring in London. North West neighbours Rochdale and Preston make up the rest of the top three most affordable.
Outside of England, Aberdeen was the only Scottish location to make the most affordable list, with a retirement fund of £117,000. Whilst there were no locations in Wales and Northern Ireland in the top 20.
Methodology
We began our study by collating the cost of living all countries and the top 100 most populated UK locations from livingcost.org. We then sourced the average life expectancy between men and women from worldometer, and compared this to each country's minimum retirement age which was cross referenced through manual research. Where a location's data was not complete, it was excluded from our final ranking.
By comparing each country's minimum retirement age with its cost of living, we were able to determine how many years the average local would live post retirement. Retirement fund considers 'cost of living' x 'years lived post retirement'.
About Sambla:
Sambla offers a smooth, free and secure solution for you who want to borrow money and merge loans. By comparing personal loans with several banks and lenders at the same time, we help you find the loan with the best terms and the lowest interest rate.