The best countries to work in the world in 2023
We've all thought about moving somewhere new. Perhaps you've had enough of the cold weather in your country and gained a newfound appreciation for sunny, beach walks. Or maybe you want to move to a much bigger city, and experience all it has to offer.
When thinking about moving to another country, workers must consider a variety of different factors, for some that is career progression and opportunity, for others that is higher standard of living including good quality childcare and prestigious education.
With workers feeling the pressure to maintain their comfortable life amid the current cost of living crisis, we at Sambla have conducted a study to discover the best places to work around the world in 2023.
We ranked OECD countries against factors such as employment rate, childcare cost and happiness, and the results could well help you decide where to plan your next move.

1. Iceland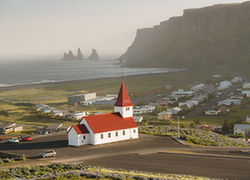 When ranked for all factors, the overall best location to live and work in was Iceland. Ranking top for employment rate, second in the world for average salary and third for overall happiness score, it's no surprise that this little island ranked so highly. Iceland has a very high employment rate of 81.6% and with unemployment being a big cause of poverty, stress and social issues this is a really important factor.
2. Denmark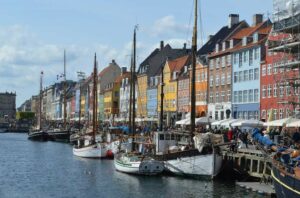 In second place was yet another Nordic country, Denmark. Denmark promotes great work-life balance with a high standard of living and a strong economy. This would explain why Denmark is also one of the happiest countries within the study, ranking second with a happiness score of 7.6.
3. Norway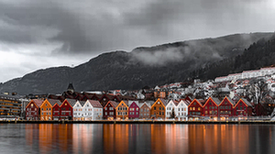 Closely following Denmark, was fellow Scandinavian country Norway who came in third best. Undeniably a beautiful country with fascinating history, stunning cities and rich culture but it also has a high standard of living which is reflected in our research. Norway has a low unemployment rate, ranking 7th in the world with 75.8% employment, making it a productive country.
Employees in Norway are able to enjoy their time outside of work with a generous average salary of $56,568.76, the 9th highest average salary in our study. Overall Norway ranked 8th in the world for happiness. Norway also has an incredibly low gender pay gap at just 4.8%
The only factor Norway didn't rank in the top 10 for was childcare costs. Norway ranked 12th best in the world for this factor, with childcare costing 6% of household income.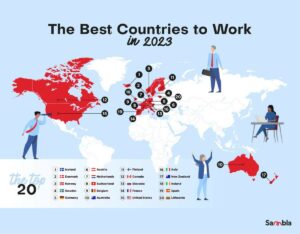 Yasin Kayhan, Head of Mortgage at Sambla comments: "It is great to see so many Scandinavian and Nordic countries at the top as the best places to work. As a region, we have particularly high societal trust, strong welfare systems, relatively low crime as well as low unemployment rates. This leads to a happy and fair society making these countries great places to work.
Top 10 Places to Work if You Love the Sun
As well as ranking countries against the above factors, we also wanted to look at average temperatures and number of sunlight hours.
| | | | |
| --- | --- | --- | --- |
| # | Country | Avg Annual Hours of Sun | Avg Annual Temperature °C |
| 1 | Israel | 3390 | 17.5 |
| 2 | Australia | 2815 | 13.5 |
| 3 | Portugal | 2801 | 17.5 |
| 4 | Greece | 2769 | 19.5 |
| 5 | Spain | 2740 | 15 |
| 6 | United States | 2520 | 15.5 |
| 7 | Italy | 2470 | 15.5 |
| 8 | Turkey | 2345 | 12.5 |
| 9 | South Korea | 2133 | 13.5 |
| 10 | Canada | 2088 | 4.5 |
5 Tips for Moving Abroad to Work
1. Visit the country you are wanting to move to in advance
We've all heard stories about countries or cities which has led to us having a perceived opinion. This is why it is always important to visit the place you want to move to in advance. Preferably this should be done a number of times so you can properly understand the culture and environment before deciding if it's for you.
2. Join expat forums and start reading blogs
Expat forums and blogs are a great way of getting information and advice from people in a similar situation to yourself. You can find out what went well for them, and what didn't so you don't make the same mistakes. It may also bring you some confidence in your decision if you previously had any nerves.
3. Practise the local lingo
You may have fallen in love with a new place, however any location is much about the people then just the architecture and way of life. So to build connections and relationships you should try and learn the local language. Basic phrases will help you out massively at first as you do your everyday tasks. Then after a while you will pick up more and more of the language, becoming an expert in no time.
4. Research the cost of living
The cost of living differs from country to country, so it is very important to research what this may look like in the place you're thinking of moving to. Look at how you may need to budget for bills, shopping and days out. You might find that buying a house there is much cheaper or expensive which may hinder your decision. Other important aspects include heating, water and petrol costs which can all massively vary depending on the country.
5. Research the local rules and laws
Respecting the laws and the rules of your new country is important, the last thing you want to do is come across as disrespectful or break one of the laws which would lead to deportation. Before you move, research thoroughly the laws of the lands as they differ depending on which country you're moving to. Some have certain religious laws whilst others have other traditional laws or rules in place.
Methodology
We collected and compared metrics across OECD countries, of which 33 countries had complete data. Countries without complete data were excluded from our final ranking.
Metrics were sourced from the following: Employment rate, happiness score, average salary, childcare cost, gender pay gap, and inflation. Average temperatures were sourced from Weather and Climate.